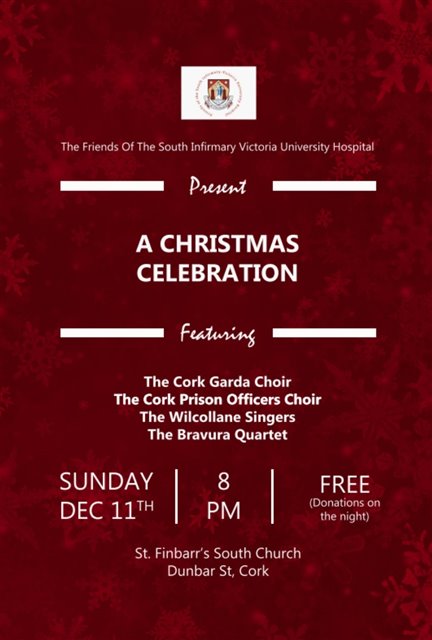 ---
Promoting World Thrombosis Day Thursday 13th October 2022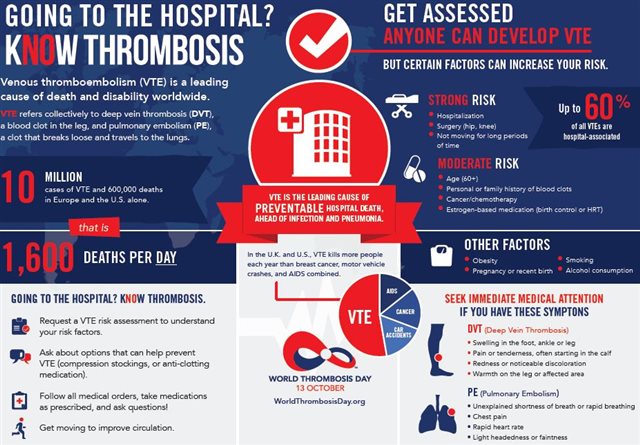 ---
Cork Dermatologists win gold medal at US medical conference 29th April 2022
Dermatologists from the South Infirmary Victoria University Hospital in Cork presented breaking research at the American Contact Dermatitis Society's annual meeting in Boston, outlining a novel project to promote equity and rural inclusion in healthcare in Munster. For more see Dermatology Department section or view original Article here
---
D
Dermatology News
Irish dermatologists are reporting two more cases of a rare skin ulcer known as reactive infectious mucocutaneous eruption (RIME) in teenage males who were infected with COVID-19
---
Dear all
Dr Sally O' Shea has been appointed as Consultant Dermatologist on a permanent Full time Basis between SIVUH, University Hospital Kerry and CUH.
Please welcome Dr O'Shea to this new role, which she has commenced from 4th January 2022.
---
SIVUH GP Face to face Conference 2022 Saturday 12th February
---
Protect yourself and others from COVID-19
Do...
- Follow government guidance about what you can and cannot do
- Ensure good indoor ventilation
- Get a COVID-19 vaccine
- Wear a face mask
- Keep at least 2 metres (social distancing) and avoid close contacts
- Wash \ Sanitise your hands properly
- Mininise your movements

********************************************************************
---
Welcome to Consultants
Welcome to Mr Gerard Thong; locum Consultant Otorhinolaryngologist who has been appointed, commencing 15th November 2021 until  30th September 2022.
Ms Niamh Collins will join SIVUH /CUH  from Wednesday  11th  August 2021 as locum part time Consultant Ophthalmic surgeon
---
Rapid Access giant cell / temporal arteritis service
A new rapid access giant cell / temporal arteritis service is now available in the Rheumatology department of the South Infirmary Victoria University Hospital.

GP referrals are welcome and patients can be booked in by GP's or other doctors ringing directly to the Rheumatology Consultant telephone line 9-5 Mon- Fri. See here for more information
---
Welcome to Consultants
Ms Ann O' Connor will join  SIVUH /MGH as  Consultant Otorhinolaryngologist on 6th April 2021. Ms O' Connor will replace Mr Daragh Coakley on a permanent Full time Basis
Welcome also to
Ms Jemima Dorairaj who commenced as the New Consultant Plastic Surgeon on Monday 1st March 2021
Dr Catherine Quinlan, Consultant Dermatologist, from the 19th April 2020.
Mr. Conor  Barry,  Associate Professor and Consultant of Oral and Maxillofacial Surgery who began on Monday, 30th November 2020.  Mr Barry replaces  Professor Duncan Sleeman.
---
Recent Consultant academic Publications from Sivuh
---
Patient Information on enhancing patient and family communication whilst an inpatient-strategies during Covid-19 visiting restrictions
Internet Information for Patients- Click Here
Enhancing Communication - Patient Information Leaflet - Click here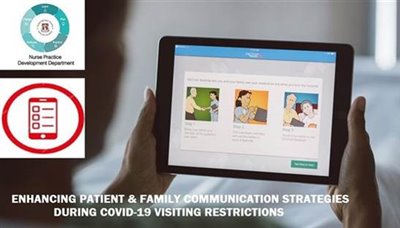 ---
Honouring the nurses: Global appreciation day for profession at forefront of Covid-19 battle 

---
Welcome to Dr Len Harty, Consultant Rheumatologist
We wish to advise Dr Len Harty joins SIVUH as Temporary Consultant Rheumatologist  from Friday 3rd April 2020 in direct replacement of Dr Mark Phelan. Dr Harty will work on two sites –The South Infirmary Victoria University Hospital and Mercy University Hospital.
Please extend a warm welcome to Dr Harty in his new role in the Rheumatology Department.
---
You've Got Mail!
This morning's "You've Got Mail" delivered to our in-patients within the hospital which will both cheer up our patients and keep them in contact with their families. Thank you to all for availing of this service.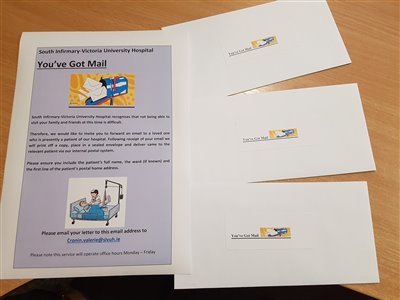 ---
You've Got Mail!

South Infirmary-Victoria University Hospital recognises that not being able to visit your family and friends at this time is difficult.
Therefore, we would like to invite you to forward an email to a loved one who is presently a patient of our hospital. Following receipt of your email we will print off a copy, place in a sealed envelope and deliver same to the relevant patient via our internal postal system. See details on the You Have Got Mail page under Patients and Visitors.
---
SIVUH Public Notice - Coronavirus (COVID-19) Safety Notice & Visiting Restrictions.
In the interest of patient and public safety we are restricting the visiting policy at the South Infirmary Victoria University Hospital until further notice.
We are requesting that the public do not visit SIVUH patients at this time.
With effect from the afternoon of Monday, 16th March 2020 all non-urgent Out-patient and Surgical appointments including Day Cases at SIVUH have been cancelled up to and including 31/03/2020. Patients will be contacted in respect to their appointments. All appointments will be rescheduled for a future date. We apologise for the inconvenience to our patients but we do this in the interests of our patients and staff as per the public health protocols.
Should there be any changes to any services in the hospital we will update this notice. Hospital Management - 18th March 2020
---
Public Dermatology Outreach Clinics make significant Carbon Emission Cuts - Mon, Feb 17, 2020
Dr Cathal O'Connor stated another gain of the scheme is catching diseases earlier, which has an additional knock-on effect "because people don't need as much follow-up". more - see link https://www.irishtimes.com/news/health/public-outreach-clinics-make-significant-carbon-emission-cuts-1.4165377

---