Public Service Excellence Award for the Pigmented Lesion Clinic (PLC) at SIVUH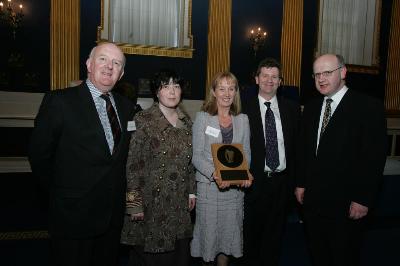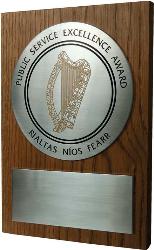 Dr Fergus Lyons, Consultant Dermatologist; Dr, Michelle Murphy, Consultant Dermatologist; Margo Topham, Planning, Development & Strategy Manager; Mr Gerard O'Callaghan, SIVUH Chief Executive; and Prof. Brendan Drumm, HSE Chief Executive
On March 31st in Dublin Castle an award was conveyed on the SIVUH in recognition of the Pigmented Lesion Clinic.  Submissions for consideration were sought by Department of An Taoiseach throughout the Public Service.  In excess of 150 submissions were reviewed by an independent group, chaired by Ms. Marian Finucane.  The SIVUH was one of 20 recipients who received recognition for Public Service Excellence from An Taoiseach, Mr. Bertie Ahern T.D.  Representing the SIVUH were Mr. Gerard O'Callaghan (Chief Executive), Dr. Fergus Lyons (Consultant Dermatologist), Dr. Michelle Murphy (Consultant Dermatologist) and Ms. Margo Topham (Planning, Development & Strategy Manager).  Dr. John Bourke (Consultant Dermatologist) was unable to attend. On the day and on 21st February in the Imperial Hotel, Cork, a presentation of our project was delivered.  This provided the opportunity to explain our service provision and to take questions from the audience.  Considerable interest was expressed by both health care and non-health care workers in what we had achieved. The following is a summary of our submission, which explains why and how the Pigmented Lesion  Clinic was set up:
Skin Cancer:
If you can spot it, you can stop it!
Most people have a number of brownish spots on their skin – freckles, birthmarks and moles.  Almost all such spots are normal, but some may be skin cancer.
Key warning signs are irregularities in shape, edge, colour and size.
Skin cancer, if treated early, is almost always curable.
Melanoma:
600 patients per year develop Melanomas in this country. 
It is the second commonest Cancer Diagnosis in the 30-45 year age group.
The third commonest cancer in the 25-40 year age group. 
High mortality if not detected and treated at an early stage. 
Tumour with the most rapid rise in incidence and is doubling every ten years. 
Dermatologists are best placed to detect melanoma early and cure it.
Background:
Concern was expressed regarding the length of time patients were waiting to be seen by a Consultant Dermatologist. Of particular concern were patients with potential melanomas whom, if diagnosed and treated at an early stage, have a significantly improved survival.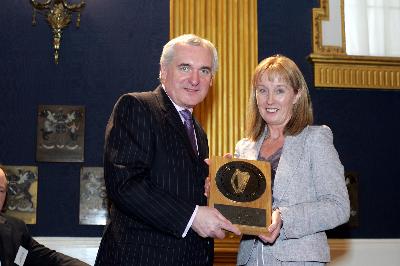 An Taoiseach, Mr. Bertie Ahern T.D. with Margo Topham, Planning, Development & Strategy Manager
Our Objective for the Pigmented Lesion Clinic:
Improve speed and quality of access for patients with lesions clinically suspicious for melanoma and reassure those with benign lesions.
Provide education on skin cancer and promote good sun protection practice and awareness of melanoma.
Provide interdisciplinary care to those affected – Surgery, Radiology etc.
Implementation:
Funding secured from the National Treatment Purchase Fund (NTPF).
Consultant delivered service provision.
Design of clinic and referral parameters, including excision of lesion if required on day of attendance.
Target waiting time (out-patient appointment) 2 weeks for consultant opinion and treatment.
Outcomes:
In just two years we have seen in excess of 2,000 patients in the PLC;  approximately 30% required biopsy/removal of lesion on the day, of which 26% were a malignancy (all skin cancers and includes melanoma).
Future Plans & Research:
The PLC has provided a useful basis for research into melanoma.
We plan to assess the impact of the PLC on morbidity, mortality and survival from melanoma in the region.
Promote and encourage skin cancer prevention both at the clinic and to populations at risk.
We know that the PLC works; it is simple and very effective and a model that can be applied outside of the organisation.  A very positive impact has been conveyed on those who come in contact with the service. Considerable commitment and dedication exists in this project service area and congratulations to all who give their time.  This includes nursing, clerical admin, portering, surgery, radiology and of course dermatology. This is an excellent achievement for all involved and particularly for the patients, who are the real winners in this project.
Margo Topham, Planning, Development & Strategy Manager