Patient Information on enhancing patient and family communication whilst an inpatient-strategies during Covid-19 visiting restrictions
Internet Information for Patients- Click Here
Enhancing Communication - Patient Information Leaflet - Click here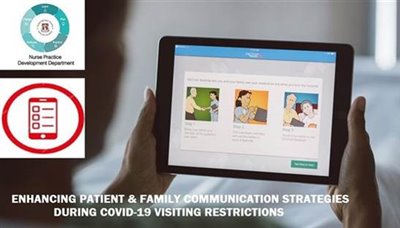 ---
Honouring the nurses: Global appreciation day for profession at forefront of Covid-19 battle 

---
Welcome to Dr Len Harty, Consultant Rheumatologist
We wish to advise Dr Len Harty joins SIVUH as Temporary Consultant Rheumatologist  from Friday 3rd April 2020 in direct replacement of Dr Mark Phelan. Dr Harty will work on two sites –The South Infirmary Victoria University Hospital and Mercy University Hospital.
Please extend a warm welcome to Dr Harty in his new role in the Rheumatology Department.
---
You've Got Mail!
This morning's "You've Got Mail" delivered to our in-patients within the hospital which will both cheer up our patients and keep them in contact with their families. Thank you to all for availing of this service.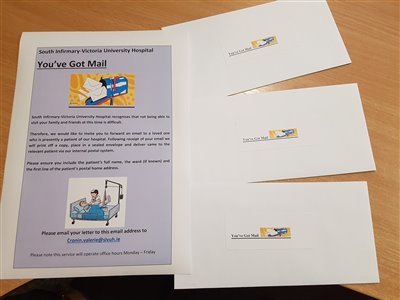 ---
You've Got Mail!

South Infirmary-Victoria University Hospital recognises that not being able to visit your family and friends at this time is difficult.
Therefore, we would like to invite you to forward an email to a loved one who is presently a patient of our hospital. Following receipt of your email we will print off a copy, place in a sealed envelope and deliver same to the relevant patient via our internal postal system. See details on the You Have Got Mail page under Patients and Visitors.
---
Public Dermatology Outreach Clinics make significant Carbon Emission Cuts - Mon, Feb 17, 2020
Dr Cathal O'Connor stated another gain of the scheme is catching diseases earlier, which has an additional knock-on effect "because people don't need as much follow-up". more - see link https://www.irishtimes.com/news/health/public-outreach-clinics-make-significant-carbon-emission-cuts-1.4165377

---
SIVUH tops national patient experience survey
This week the results of the 2019 National Inpatient Experience Survey was launched. This a nationwide survey of experiences of patients in public hospitals in Ireland. The South Infirmary Victoria University Hospital (SIVUH) scored exceptionally well with 98% of participants for the SIVUH saying they had "good" or "very good" overall experiences, compared with 84% nationally.
SIVUH is the regional centre for Orthopaedics, Ear Nose and Throat and Dermatology and provides an extensive Plastic Surgery and Ophthalmology service also with over 40,000 procedures undertaken each year.
Over the last three years the South Infirmary Victoria University Hospital (SIVUH) has consistently achieved some of the highest satisfaction ratings of all public hospitals in areas such as cleanliness and involving patients in decisions about their care and treatment. The hospital also achieved exceptionally high scores for all stages of care from admission to discharge and for overall experience. 
The process of how and when patients leave hospital, where they go to and their follow up care was often an area that didn't achieve sufficient attention in the Irish healthcare system.  SIVUH has targeted and improved this process and its success in safe discharge planning was highlighted by the National Inpatient Experience Survey as the best in the country. It is now planned to use it as a model of excellence for the public hospital system.
Resources: https://yourexperience.ie/inpatient/local-results/south-infirmary-victoria-university-hospital/.
---
ENT Casualty Access
For information on patients accessing the ENT Casualty please see the Pathway for patients accessing the ENT Casualty page
---
---