Table Quiz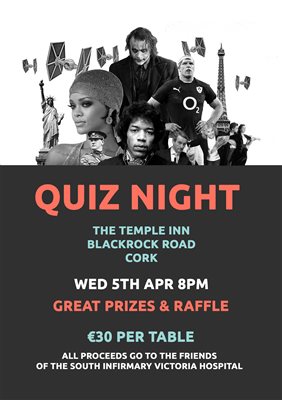 Just a reminder re Table Quiz on Wednesday April 5th 2017. Looking forward to a fun night, so put on your thinking caps.
---
3rd International Conference on Paediatric Spasticity, Orthopaedic, and Postural Management
Please click here for information on the 3rd International Conference on Paediatric Spasticity, Orthopaedic, and Postural Management.
---
Thank you!
Following on from the 'Celebration of Christmas' in the Lough Church on Sunday 11th December where there was a full house with fabulous choirs & a great atmosphere. We raised €4825.23, this is going towards an imaging machine for head & neck cancer.
A big thanks to the committee, all the volunteers but especially to those who attended the event. Hopefully it will an annual event so mark your diaries.
Thanks again.
Friends of the SIVUH
---
Pilot project on electronic phototriage of referrals for infantile haemangiomas.
Consultant Dermatologists and Consultant Paediatricians at Cork University Hospital announce the launch of a National Pilot for Photo-Triage of Referrals for Haemangiomas from November 1 2016.  General Practitioners can email a photograph of the haemangioma together with the child's date of birth via Healthmail to hse.haemangioma@hse.ie 
A paediatric dermatologist will review the photograph within 5 working days and contact the general practitioner via phone or email with a clear referral pathway dependent on the geographical location of the patient.
For more information click here
Coordinator: Dr Michelle Murphy
---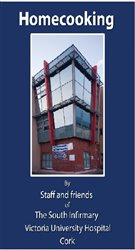 Friends of the SIVUH Fundraising Cookbook
In 2015, a group of past and present staff members of the South Infirmary Victoria University Hospital (SIVUH), supported by management, came together to form the Friends of the SIVUH with the aims of increasing awareness of the activities of the Hospital and raising funds which will be "ring fenced" to help patients in their journey through the various services provided throughout the hospital. We have developed a cookbook to raise funds by gathering recipes from the diverse community, past
and present, of the SIVUH. The response from all of those we approached for recipes was overwhelming and the committee would like to thank everyone who submitted their favourite recipe. We really enjoyed reading them.
Unfortunately we could not fit them all in, but we hope that this cook book will give a flavour of both local and international home cooking from the hospital.
The book For sale at the carol service next week, in the hospital from Jackie Cronin and from o'sullivan pharmacies. Cost €10. The proceeds go to ENT narrow band imaging for laryngeal cancer
---
Friends of the SIVUH Fundraising Carol Service 11th December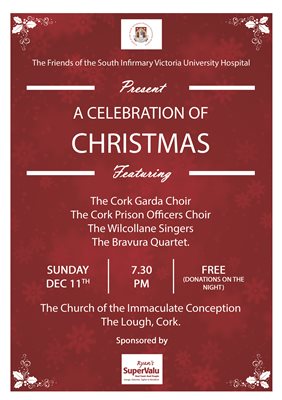 Eilish Corcoran has organised a carol service in the Lough Church at 7pm on Sunday Dec 11th. Free admission.
A nice way to kick off Christmas!
---
Consultant Appointments
Dr Bennett has been appointed to replace the Vacant post of Permanent Full Time Consultant Dermatologist. This appointment (previously held by Dr Michael O'Connell) is effective from 1/10/16.
Mr Mark Dolan, has been appointed as Consultant Orthopaedic Surgeon si Spinal Surgery – from 2nd August 2016. Mr Dolan is permanently appointed  to  Cork University Hospital and South Infirmary-Victoria University Hospital.
---
Jackie Cronin presents a new ABPI machine to the Hospital Dressing clinic on behalf of the Friends of the SIVUH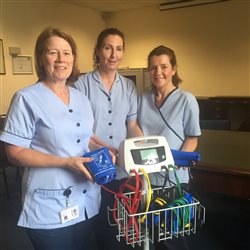 The funds for the machine were raised by various fundraising events in recent months and matched by the hospital.
Sept 2016
---
Advanced Medical Dermatology For Non - Dermatologists 2016
The South Infirmary Victoria University Hospital & Dermcloud are pleased to announce:
A 6 week interactive web-basedcourse on Advanced Medical Dermatology.
Please visit the Advanced Medical Dermatology For Non – Dermatologists 2016 page for more information
---
On behalf of the Friends of the SIVUH
A big "thank you" to all volunteers and donors in recent events and to everybody who participated in raising funds for the SIVUH. The money raised is being put to great use.
Coffee Morning organised by Mary Conroy - €500
Pub quiz orgainsed by Ursula Bond - €1200
Personal Donation from Dr Edgar Ritchie - €300
Easter Hamper organised by Catering staff in the Obs ward- €250
Cake sale organised by Audrey Mulcahy and Jane Connolly   - €2070.14
Collection bottles from the two hospital canteens - €533.69
Lots more events are planned in the coming months so watch this space!
June 2016
---
Friday, 27th May 2016
HSE Press Release
Euromelanoma Skin Cancer Screening in University Hospital Kerry
More than 350 people attended a free skin cancer screening clinic in University Hospital Kerry on Saturday 21st of May 2016 . The event was organised by Dr Johnny Bourke and Dr LesleyAnn Murphy Consultant Dermatologists University Hospital Kerry as part of Euromelanoma and they were assisted by Consultants Dr Michelle Murphy and Dr Mary Bennett (South Infirmary Cork) and Dr Norin Ni Scannlain (Bon Secours Hospital Tralee).
Euro-Melanoma is a pan-European prevention campaign against skin cancer. Skin cancer is the most common of all cancers. It is also the easiest to cure, if diagnosed and treated early. When allowed to progress, however, skin cancer can result in disfigurement and even death.  The screening day serves to highlight awareness of skin cancer amongst the general public and to encourage self checks for new or changing skin lesions.
Dr Johnny Bourke and Dr Lesley Ann Murphy provide a consultant delivered  weekly dermatology clinic in University Hospital Kerry which sees and treats skin cancers as well as all inflammatory dermatoses. Phototherapy for psoriasis is also provided at the hospital.
The large turnout at the screening days reflects the publicity that the event was provided by Kerry Radio and the Kerry County Board.
Issued by: 
HSE National Press Office, Dr. Steevens' Hospital, Dublin 8
Tel: 01 635 2840  Email: press@hse.ie
---