---
Hi All
Sunday 10th December is our 2nd Carol Service, it was a resounding success last year with a full church, please mark your diaries, all welcome.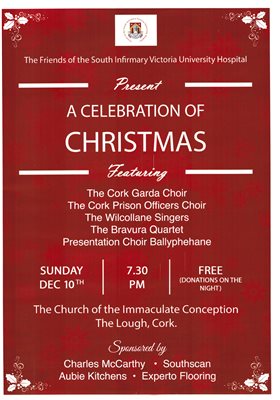 ---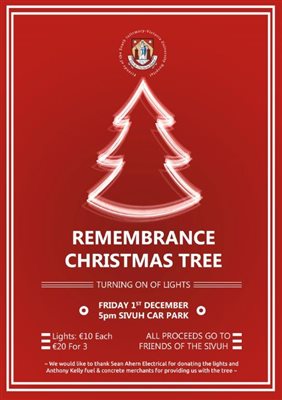 The Remembrance Christmas tree lights will be turned on Friday 1st Dec 5pm. Mince pies, mulled wine, tea & coffee to keep you warm while the SIVUH choir sing Christmas Carols. The lights will be on sale at that time & up to Christmas, we will have a sales table in the hall & out of hours available from reception. Volunteers to man the sales table required, please contact us as we are arranging a rota
Thanks for your support
Eilish
---
Please see attached poster for Quiz night in aid of SIVUH on November 3rd 2017 at 8.30 in the Guilders Bar in Carrigtwohill. It will be a great night. All are welcome.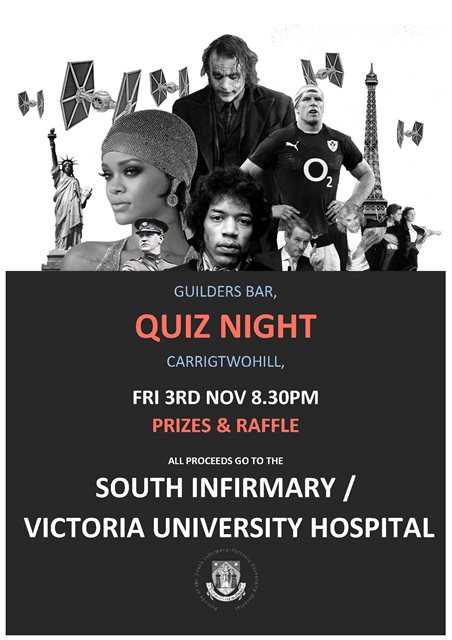 Ecumenical Remembrance Service
for deceased staff & their families at 7.30pm Tuesday 7th Nov in the church in St Finbarr's Hospital, all welcome
Ends
---
Friends of SIVUH present cheque for €15,000 to Cork Head and Neck cancer charity
Dr Johnny Bourke will make a presentation to Professor Patrick Sheahan on behalf of the Friends of SIVUH to the Cork Head and Neck Cancer Charity at Paddy the Farmers on Friday 15th September at 5pm. The Friends of SIVUH have raised €15,000 for the charity through a golf classic, carol service, sales of a Hospital Cookbook, cake sale, pub quizzes and a variety of other events in 2016/2017. The funds will contribute to the purchase of narrow band imaging for the early detection of laryngeal cancer at the South Infirmary Victoria University Hospital.
---
Post of Associate Professor  / Consultant Otolaryngologist
Mr Patrick Sheahan  has been appointed to the Post of Associate Professor  / Consultant Otolaryngologist at SIVUH and University College Cork. Professor Sheahan has been appointed on a full time permanent basis to this Academic post. This post encompasses an SIVUH commitment and a commitment to University College Cork.
Professor Sheahan  will assume his  Professorship  in ENT  from Monday  4th  September  2017 .
---
Pilot project on electronic phototriage of referrals for infantile haemangiomas.
Consultant Dermatologists and Consultant Paediatricians at Cork University Hospital announce the launch of a National Pilot for Photo-Triage of Referrals for Haemangiomas from November 1 2016.  General Practitioners can email a photograph of the haemangioma together with the child's date of birth via Healthmail to hse.haemangioma@hse.ie 
A paediatric dermatologist will review the photograph within 5 working days and contact the general practitioner via phone or email with a clear referral pathway dependent on the geographical location of the patient.
For more information click here
Coordinator: Dr Michelle Murphy
---